Best of the Season, Part XVI: Blazers beat LeBron, Cavaliers for 11th straight win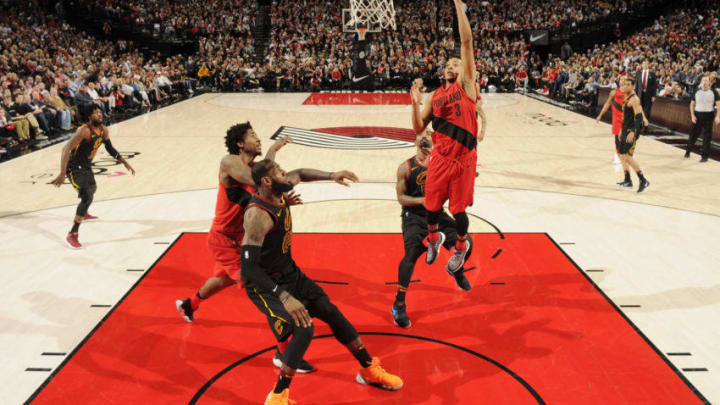 PORTLAND, OR - MARCH 15: CJ McCollum #3 of the Portland Trail Blazers goes to the basket against the Cleveland Cavaliers on March 15, 2018 at the Moda Center in Portland, Oregon. NOTE TO USER: User expressly acknowledges and agrees that, by downloading and or using this Photograph, user is consenting to the terms and conditions of the Getty Images License Agreement. Mandatory Copyright Notice: Copyright 2018 NBAE (Photo by Cameron Browne/NBAE via Getty Images) /
Beware the Ides of March, amirite? Well, not really. The Trail Blazers beat the Cavaliers on that date for one of their best wins of the season.
As I type these words, the Cavaliers and Warriors are set to tip-off Wednesday in Game 3 of the NBA Finals. Seems like a good time to remind Rip City that the Trail Blazers went 3-2 against those two teams this season (1-1 against the Cavs; 2-1 against GSW).
Yeah, I know. When those two teams are (once again!) competing for the Larry O'Brien trophy, it seems hardly worth the consolation to be reminded that Portland played well against them this season.
But it's more than a consolation. It's an acknowledgment that the Blazers were at times this season capable of beating anybody. And for one glorious stretch from February to March 2018, they did.
The Blazers' Streak
Portland (41-26 at the time) entered their March 15 home game against the Cavaliers riding a 10-game winning streak. They'd just beaten the Miami Heat for win No. 10 in a row.
Damian Lillard scored 32 points and dished out 10 assists in that one. And Jusuf Nurkic had one of his best games of the season: 27 points on 12/18 shooting and 16 rebounds and three blocks.
Cleveland arrived in Portland with a 39-28 record. They'd gone 5-5 in their previous 10 games and had lost 2 of 3. But, of course, they had the unstoppable LeBron James.
So record schmecord — this was going to be a tough one for the Blazers.
Cavaliers-Blazers
Speaking of LeBron James, early on in this one he gathered himself on the Blazers' center court pinwheel, accelerated to the basket and pulverized Jusuf Nurkic.
https://twitter.com/NBA/status/974471005434499072
Some people — Rip City friends whom I admire — said this dunk wasn't that big a deal.
They're wrong.
More from Blazers News
It was spectacular and dirty. Kudos to Nurkic for challenging. There is no shame in his failure.
But it takes more than just one of the best dunks ever to beat the Trail Blazers when they are — cliche alert! — firing on all cylinders. And the Cavs had a lot more to offer.
James would score 35 points and grab 16 rebounds. He added six assists, three blocks and two steals. Kyle Korver (19 points), Jeff Green (16 points) and Jordan Clarkson (14) provided the bulk of the Cavs' offense. Cleveland would shoot a healthy 51 percent for the game.
And yet it wasn't enough.
The Blazers
CJ McCollum (29 points) and Lillard (24 points) led the way for Portland. Meanwhile, Nurkic struggled with foul trouble and poor shooting. He finished with seven points and 10 rebounds in just 18:43 minutes of court time. Perhaps that LeBron dunk rattled his confidence. Can't blame him, I guess.
It was once again the supporting cast which provided the real difference.
Next: Portland Trail Blazers Summer League squad?
Maurice Harkless continued his late-season resurgence and scored 17 points. Al-Farouq Aminu had 11 points and nine rebounds. Evan Turner also had 11 points to go along with seven rebounds and five assists.
One thing stands out from the Blazers winning streak: They were getting solid contributions from up and down the lineup. Win No. 11 in a row was no different.