Apologies for the off-topic post today. Quickly, here's all the Blazers news that's broken since the last time you checked:
…
Gee, it's almost like training camp hasn't even started.
Last Thursday I went and saw the famous political sportswriter Dave Zirin speak at Pacific University about the political side of the games we love. He touched on the protests of Olympic athletes at the upcoming Sochi games, sexism in sports, Jason Collins, the NFL concussion lawsuit, and more. He was excellent.
Zirin talked at length about the role athletes—Muhammed Ali, John Carlos, and Jackie Robinson among them—played in the Civil Rights movement and in protesting the Vietnam War. He argued that a huge number of the biggest athletes of the past century have been intensely political. No one he mentioned, I don't think, has played in about fifteen years. America's most famous athlete today is LeBron James, hardly a committed activist. The best baseball player in the world is Mike Trout, who's patently uninteresting. A common complaint is that athletes today are too bland, their interviews too clichéd. So I started wondering what sports offer the real world today, if not political activism.
An appropriate xkcd strip: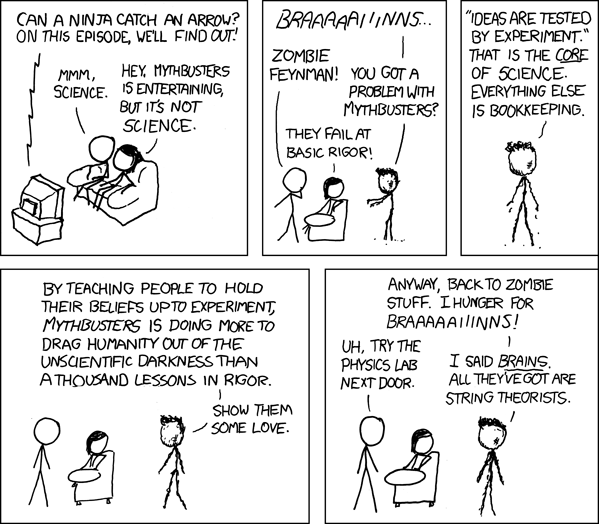 It's not news to anyone, but it deserves to be talked about. We're in the Scientific Revolution of Sports, and I think it's important.
I'm someone who believes strongly in reason in most every area of life. And this, I believe, is one of the ways in which sports is changing the world. Zirin never mentioned it, probably because being in the Golden Age of Sports Analytics isn't something to be overly proud of, but it's not nothing either. Sports are often criticized for creating submission, conformity, and "irrational jingoism", to quote Noam Chomsky. I think that was without a doubt an exaggeration whenever Chomsky said it, and it sure isn't true now. The internet (probably) had precipitated a wave of sports-related skepticism. Baseball, of course, led the way with the A's and Moneyball, but it's happening in basketball too. It's still a sub-culture of people who like to argue logically about sports, but it's been growing less and less "sub-" for years now.
But Julian, who cares about rationality in sports? It's sports!
You might remember Nate Silver from the last presidential election. If not, he's the guy whose projection system correctly predicted the results from all fifty states. He received huge amounts of criticism for…I'm not sure, really. Using math, I guess. He's also the creator of PECOTA, a groundbreaking baseball projection system. In the days leading up to the election, I kept seeing bemused pieces from baseball writers who essentially said "how on earth did sports learn to be rational about numbers before politics? Politics actually matter!"
Think about that. The person who might be making the most headway in the public for mathematics and reason started as a baseball nerd.
It operates on a smaller scale, too. A kid who grows up learning to recognize bad sports rhetoric will find it easier to recognize bad political rhetoric. Every sports fan who grows sick of talking heads on ESPN shouting over one another, and wishes they would deal in facts, can transfer that same attitude to stuff that's actually important.
Sports have always been an agent for social change. Something about the obvious win/lose dichotomy makes owners do crazy stuff like sign African-Americans nearly two decades before the March on Washington, or play five of them on the court at once regardless of what the crowd thinks. Now there aren't too many barriers to be broken down, and maybe sports' capacity for causing upheaval, at least in America, has been diminished (Jason Collins notwithstanding). But if sports can teach reasonable discussion and argument to anyone, then it's doing more than our media is and more than our education system too.
We've seen sports act as a positive force for racial equality and integration, peace, and our relationship with North Korea (well…). Today its politics are rarely as overt as Ali's war protests. But the way we think and talk about our entertainment informs the way we think and talk about the world at large, and the tone of our sports arguments is changing. So those of us who stare at statistics all day, or compose long arguments on comment threads about Nic Batum's defense (or whatever) aren't wasting our time. It's all a part of a popular shift toward logic, one that has Sports Illustrated using Wins Above Replacement for their baseball coverage and the New York Times Magazine spotlighting Shane Battier and Lebron James saying things like "I want to know that this guy drives left 70% of the time, or pulls up when he drives right, or likes to cross over after two dribbles." Has a sports star ever said anything like that? It's remarkable.
Hey, you're still reading a math nerd trying to rationalize his sports obsession? You deserve…something. Maybe a good hard smack, I'm not sure. Again, sorry about the lack of Blazers-related insights; next week, I promise.